WEEKLY COMMENTARY....
April 21, 2001
JAPW
Hey ass-sniffin', fart-knockin' Hanson fans! It is your Zebra king with Zebra skill Hanson back with another slammin' commentary. Well, I am here to recap the April JAPW events. April didn't see Reckless Youth or Don Montoya....my stooges tell me they are vacationing....together....hmmmmm. Anywho, April 23rd in Bayonne JAP brought the house down! As the Bayonne crowd screamed and cheered insanely for THE WHOLE REFFIN SHOW, as I made my return to the "suicidal hall". It saw the very successful debuts of Tommy Suede and Supreme Lee Great who had a spectacular match. SLG came out on top even though that evil woman "Aerial" interfered and gave him a head-scissors on the floor. But both men were welcomed warmly at Charity Hall and I am sure we will see these talents again very soon in JAP. It also saw round 2 of The Bayonne Brothers and The Briscoes...these two teams went move for move, hold for hold....and The Briscoes got the best of them on this night. What does that say for The Briscoes??? Well, they beat Dixie and The Dragon...in their hometown! Impressive? Oh heck yes! Nick Berk nearly came out on top over Ric Blade....but The "f'n" one's unbelievable array of moves and speed and agility defeated Berk. The crowd was live from the start to the finish of this one...then as Ric celebrated, Low Ki made his way to the ring for his match. After I forced Low ki back to the dressing room, he said.."What?" and I said..."uhh nothing"...and let the two face off. They nearly went at it until Trent Acid remembered he dropped a contact in the ring from a previous night of action and mistakenly whapped Blade in the back of the head...and would ya believe it? He took the belt with him by accident. Well, Low ki was then forced to start at the bottom of the ladder...and had to face the mysterious "Fu-bu"....after several dropkicks and planchas...fu bu had Low Ki reeling and on the defense. Fu bu then perched up on the top rope and hit Low Ki with an incredible "900" splash and the 1 2 3!.....................
Well, that really didn't happen..Low ki forearmed Fubu in the face and Fubu forfeited the match...but then "The Exploited Child" Elax came down to ringside and took a beating like the XFL in the prime time ratings. Elax took everything Low Ki had...and it was enough...Low ki came out on top. The Moondogs 2000 were in Bayonne to challenge the now hated Hit Squad. This was a no DQ match, and this one was out of hand and I wasn't about to try and gain control, this was a pure brawl. Mafia and Monsta Mac walked out the victors...but walked out black and blue. Also on the card.....Jerry "the bull" defeated Don Bon Jovi...Chino Martinez defeated Nino Gellato....Trent Acid defeated Justice Pain....Homicide successfully defended his belt against Skinhead Ivan, this one saw no amateur take downs...just a lot of right hands...J-train then attacked Homicide, it took half of the locker room to separate the 2 of them...Homicide now had an opponent for the next night in Philly. Something told me that one wouldn't be a catch-as-catch can contest either. Saturday night in Philly saw the action keep going. It saw an outstanding, physical contest for the lightweight title as Ric Blade battled the man that stole his belt the night before, Trent Acid. It looked as if Ric had him knocked out...I came down to the ring as referee Paul "I wish I was Ref Hanson because he has Zebra skill and nice muscles and is major down with the chicks and so forth" Turner waived me down to help Trent to the back...but Trent played possum and attacked Blade from behind...Ric pulled off an amazing swanton bomb off of the scaffold! Ric never ceases to amaze us, he is unbelievable! The match ended in a 10 count draw....after Trent asked the crowd for five more minutes, he walked out of the ring with his manager for the night Johnny Kashmere and the belt...and vowed to see Blade in May. Chino Martinez made it 2 in a row with a victory over Nick Berk...not a good weekend for Mr. Berk...but he did put up one hell of a match...and the 2 shook hands after the contest in a competitive one...what a wimp, after Chino turned around, I would have hit him so hard he woulda been cryin like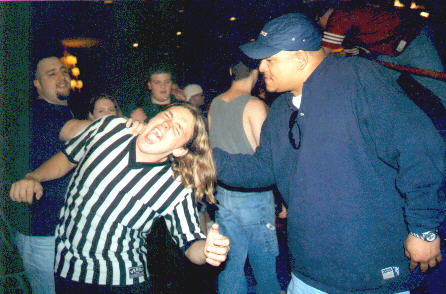 Johnny Carson after his wife said "Half!"....The Rockin' Rebel continues to impress after he defeated "Uncle Fucker" Elax.....I just watched the south park movie on tape, bare with me. The Rebel is one big mass of a man, he is one of the most intimidating men on the indy scene....and he can whip anybody's butt in Chinese checkers! Xavier and Justice Pain kept up the intense competition as they battled for over 10 minutes, Justice Pain scored the pin...but let me tell ya, I wouldn't mind seeing this one again. Other matches saw.... After 586 racial slurs at each other NJ State champion Skinhead Ivan defeated Prince Nana, The Briscoe Brothers and The Bayonne brothers fought to a no contest after The Hit squad came in and cleared house....cause they felt like it. The Hit squad defeated them 2 colon cowboys The Christopher Street Conn.....The Bayonne Bros. and The Briscoes then came out and together took out The Hits. Dixie and The Dragon then took off their JAPW t-shirts and officially welcomed The Briscoes in. Pudgey pudge the fat bastard Callahan came out and took his second shot at me...after a couple of shoves, he pulled the tights and locked me in the "Cal-mission"...I'm tellin ya, I will get my revenge. Hanson got back! GRRRR Homicide and J-train nearly killed each other with chair shots, right hands, slaps, chops, kicks, tables, and a cop killer....that should tell ya who won that one. But overall this JAP weekend was a great success and left everyone wanting more for May...well, JAP will be sure to deliver...and Hanson just might have something for anyone that wants to get itchy and scratch.
XFL
Well, April 21st was also The XFL Championship game. I was in Philadelphia for the JAP event, but I did happen to catch the game as I recorded it on my Bata VCR...HA! Hanson can program a VCR!!! Well, it was The L.A.....no that can't be right, that city can't hold down a football team, battling the San Francisco.......guys!...Demons, demons....Well, it was the fourth quarter, the 3,942 people in the stands were doing the wave...well they were actually just stretching after the 3 and a half quarter nap they were just having...anywho, the president of NBC was in desperate search for OJ's white ford bronco or Clinton makin' woopie wit teenagers...or even Bush forming complete sentences!!! But no luck, the XFL played on...VIVA LA RESISTANCE! That was a damn good movie, I just wish chef was more in it, Cartman was more than just 4 stars, and whenever I am down and out...I always ask myself..."What would Brian Boitano do?"......OH! THE GAME! Well, here goes...The guy the NFL didn't want threw a pass to the guy suspended for gambling...the guy the CFL didn't want then forced a fumble...which let the guy that didn't get picked for the draft run the ball in for a touchdown! The extra point was missed my the guy who's name was too long for an NFL jersey, so decided to take the name..."HE MATED ME". .The coach that just got out of rehab was so excited to win 1/50th of a regular NFL guy's paycheck...congratulations .....uhhh Player 1, you certainly did eat your store brand Weeateees. ....Oh the cheerleaders left with their dates during halftime...so they were replaced with butt-naked sumo wrestlers dancing to "Love shack" but nobody really seemed to care.....again, congratulations!
JCW
The joisey championship wrestling league returned to it's home in Lodi, the JCW arena on April 14th. It was a wild one. It saw Little Dixie, UCW's Maximo, and Supreme Lee Great gain spots in the J cup tournament. It saw Red take Billy Reil to the limit and nearly defeat him...but Mr. Reil had enough experience and power to defeat the rookie, Red. It saw a UCW invasion with The Natural Born Killaz, Xavier, and more debut. Webmasta Sexay jumped ship to the UCW when he battered Nick Niosi and then take off his shirt to reveal a UCW shirt underneath! The team of "Young Lust" ("Superstar" Dave Grecco and CJ Brock) were put in their place by White Lotus and "Sure thing" Ryan Wing. It is really good to see White Lotus back in action after his leg injury, it looks like he hasn't skipped a beat. UCW's Xavier pinned Don Montoya in the center of the ring clearly...so that meant Xavier became the new JCW TV champion right?? Well, not quite, DSon Montoya is no dummy as he had the 10 minute rule down. If you do not defeat the TV champion in the first 10 minutes, you do not win the belt. Low-ki and Inferno had a clinic. The cocky Inferno worked Low-ki down with submission moves, Low-ki worked down Inferno with brute force and unhuman speed and agility...Don Montoya's interference caused this one to end up a no contest...but JCW will see these 2 battle again, I can promise you that. Andrew Anderson returned to do battle with the debuting Billy Revil, Andrew hit his spinebuster for the win....but Rivel looked impressive in his first JCW outting. UCW's Creed defeated "Prodigy" Tom Marquez. The Natural Born Killaz defeated The Solution and the Boogie Knights in a three way dance...UCW interference helped out in this one. Judas Young defeated one of the toughest men to ever walk the face o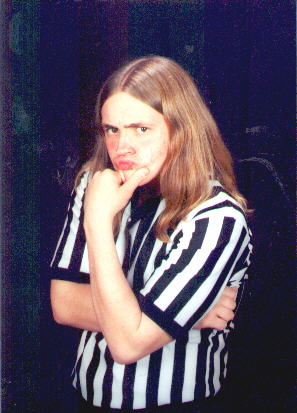 f the earth, Felipe the pool boy. Judas looked very aggressive and determined...look out for him in upcoming months as he continues to impress. The Hit Squad was screwed once again by Ricky O, Monsta Mac was suspended after he was defeated via DQ against Moondog Molson....Ricky O forced me to make the decision from ringside...this left Mafia all alone to fight both of the Moondogs 2000 later that night. Mafia put up one hell of a fight...but it looked as if Ricky O would win again...the moondogs had Mafia at their mercy...but when the top rope snapped on the ring...something else did too...LOW KI...he came roaring out of the dressing room with piss and vinegar running through his veins. This gave Mafia an added boost and Mafia and Low Ki together got the win over Moondog Wenzel! The crowd erupted and Low Ki and Mafia were awarded the JCW tag team championship belts...now, I had every right to DQ Low Ki and Mafia at anytime I wanted...but just decided not to....I could have! But this event now leads to the J cup June 23rd in Lodi...16 lightweights fight for the right to own the prestigious J cup....and I have the final decision of who wins and loses because I am the ref....the whole reffin show...and I will slap down an automatic DQ on anyone that gets out of line whether it's Little Dixie....or even Judas Young...or even Low Ki....I'll do it!

"Delicious" Dave Vicious
1968-2001
It is with sadness that I end this commentary. For those of you that don't know, Dave Vicious died this past month from an apparent heart attack at the age of 33. He will be greatly missed, he was normally seen on North-eastern independents. Most notably in New England. I never had the chance to work with him, and just wish I had to have. Let's take care of ourselves, guys...we are a family. Rest in peace, Dave, you will be missed...and in our hearts forever.
Next commentary....
I don't freakin' know, I aint there yet! But you will hear my predictions on who will win the Stanley cup and NBA championships....reports from ECPW, BRAWL Wrestling, and other Indys...and the complete rap-up of the fall of the roman empire in full detail!!! Till next time.....
Later, Gators...I'm vapor!
PAST COMMENTARIES:

March 1, 2001
February 7, 2001
January 17, 2001
December 21, 2000
November 19, 2000
October 29, 2000
October 17, 2000