WEEKLY COMMENTARY....
May 20, 2001
JAPW
Hey Ref Hanson super groupies and super fans. It is time to tell ya what is goin on in the world of reffing this month. Well JAPW returned to Charity Hall and Viking Hall this past weekend in a big, big way. We saw the first physical confrontation between Low-Ki and Ric Blade which I along with several superstars had to break up! It saw Don Montoya return to the win column destroying Don Bon Jovi, and score an impressive win over Mike Quackenbush. Chino Martinez had a good weekend defeating the highly talented "Superstar" Davew Grecco and Rockin Rebel respectively. The Rockin' Rebel walked out of the match when new business associate Skinhead Ivan came out and convinced him to walk away from that (racial slur). J-Train had a roller coaster weekend...he nearly defeated Homicide to win the JAPW heavyweight title until Papa Don came in and destroyed his knee with the use of a steel chair...the next night in Philly, J-Train got back his revenge with the drunken elbow, after Papa Don's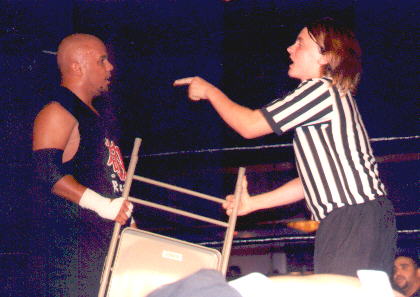 high-risk splash from the top of the entrance way through a table kind of backfired and took more out of "the don". The Christopher Street Connection had a "knock-out" performance against Low-Ki...and the next night in Philly were defeated by The Moondogs 2000. The Moondogs are looking to peak their way back up the ladder to the JAPW tag straps. "The exploited Child" Elax and Abunai were next to step up to the plate for the JAPW lightweight belt when they challenged Ric Blade in a three-way dance. After coming up unsuccessfully both men received a great ovantion, and Ric Blade got on the mic and proclaimed Elax a "JAPW wrestler" not a former "JAPW student". The next night however, Ric Blade was defeated by former WCW competitor Crowbar. I can't remember a match I saw that was more exciting than this one! AND.....AND...AND The biggest upset arguably in JAPW history saw Little Dixie and The Insane Dragon not only defeat The Hit Squad in singles action....but for THE JAPW TAG TEAM TITLES! It seems Mafia's big mouth got him in trouble when after The Insane Dragon defeated Monsta Mac....Mafia challenged both of them to a tag title match. Some might call it biased refereeing on my part, but let me tell u right now, I will not sit idly by and let The Hit Squad pull the crap they have been for the past few months. Someone has to let these guys know who is in charge...and me and fellow referee Paul Turner are going to start pushin the rulebook more than ever in JAPW, you just watch! Supreme Lee Great and Tommy Suede had an awesome match in Philly, these two matched speed, agility, and mat wrestling....when The Hit Squad came out and beat the holy hell out of both of them WHY? because they are sore losers! And they don't have any damn respect for young talent. They were pissed off that they had been beaten for the tag straps one night before, and they just wanted to be bullies. Anyhow, during the re-match for the tag straps, SLG and Tommy Suede came out during that match and distracted the Hits long enough for the Bayonne bros. to capitalize and score their second straight victory over the Hits. HA! there u punks go! .........Now, for the BS! That fat bastard Calahan strikes again!!! Here goes, after Dave Grecco lost to Chino Martinez, he challenged any "shooter" and I use that term very loosely, to a match, Calahan came out and got his butt kicked via the Fujiwar armbar! I did a little dance over the fallen fat bastard and proceeded to celebrate...when "The American Dream" Dusty Rhodes' music hits...and the fat bastard gets up and takes his shirt off and dances!!! Yeah...then he hit me with several elbows following with the Bionic elbow......THEN THE SAME CRAP HAPPENED IN PHILLY! Although I had a plan! Well, I promise you this...next month...Dave Grecco and I will have a plan and it'll follow through...I'll kick an ass or 2! CAUSE THAT's WHAT BRIAN BOITANO'D DO!
JCW
Jersey Championship Wrestling recently had WPIX visit Wrestleworld. That's right, JCW was on the morning news at 6. Judas Young, "Superstar" Dave Grecco, Andrew Anderson...Rebel Eric Archer among others were on hand for this prestigious event. Larry Hoff, a reporter for WPIX...AND my new tag team partner; decided he would step between the ropes and get involved in the action. When he did Andrew Anderson proceeded to beat the crap out of him. All in all, it was a great time and I thank both WPIX and JCW for making this happen! WPIX...you can reach me at RefHanson@aol.com. I am available for talk shows, live news coverage, sitcoms, or a special appearance on Sabrina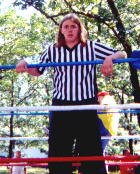 the Teenage Witch. Also in JCW, the J-Cup is coming up on June 23rd. Such stars as Low Ki, Xavier, reigning J-Cup winner Judas Young, "Sure Thing" Ryan Wing and several others will be in this prestigious tournament. With all of that great talent in it, I am gonna have to go......with Marc Reil! He is just the most impressive star in the world today! So come on down to Lodi, NJ on June 23rd and see the most exciting light-weight action you will ever see!

ECPW
Well, well, we-.............woops, I mean, Hmmmmmmmmmmmm. Well, Kleber Hebner, it seems as though the stacks are stacked against YOU! My new best friend and sleep over pal, Gary "Pee Wee" Sherman has joined me in the "We Hate Kleber" campaign! You see, ISPW stripped Gary Sherman of his ring announcing duties and made him a referee. Well, you better watch your back Kleber Hebner, because two is better than one! ECPW invaded Garfield on May 12th, It saw Dave Delicious defeat "Showtime" Shawn Sheridan and Andrew Anderson get one up on "Sure Thing" Ryan Wing. Thus, putting the balance of power back on the side of ECPW. AND that hooligan Tommy Fierro was booed more than John Rocker in New York! Not only that, but he punched me in the jimmies! Hmph! Well ECPW has it's next TV taping on May 30th! So come on down to the ECPW school and watch us take ISPW to the extreme!
Stanley Cup Playoffs
The Devils are gonna win! Thank you. GOOOOOOOOOOOOO DEVILS!!!!!
NBA Playoffs
GOOOOO NETS!!! A man can dream, can't he?
Next commentary....
In my next commentary, I will report on my FIRST BIG SHOW for WXW and my next show for Acid Pro Wreslting!!
Later, Gators...I'm vapor!
PAST COMMENTARIES:
April 21, 2001
March 1, 2001
February 7, 2001
January 17, 2001
December 21, 2000
November 19, 2000
October 29, 2000
October 17, 2000