WEEKLY COMMENTARY....
July 24, 2001
JAPW
Hey G's!!!! What up? Well, let's get down to business. July 7th was one of the biggest nights in JAPW. It was our biggest draw ever at Viking Hall. It was the debut of Low-Ki in the Hall...he went through Nick Berk like Larry King goes through wives and captured the lightweight title.....well, Homicide landed Berk with the cop killer...but I didn't see it so it didn't happen. But rest assure, Nick Berk will be back I guarantee ya. Then Low-Ki later that night defeated Homicide for the JAPW heavyweight title in one of the greatest matches I ever saw as a professional. It was back and forth...Low Ki just happened to get the best in the end. Jerry Lawler was on hand with eye candy Kat...and he faced Don Montoya with...eye sores The Chris. St. COnn.....euggggggggggggh. Anywho, it was the CSC that very well could have cost Montoya the match, it was The Kat who distracted Montoya enough for Lawler to get the pinfall. Lawler will return to Viking Hall in August...and I think Montoya will have a plan that will not fall through this time!..............July 20th was the day of the New Breed in JAP...a new beginning...It saw a clinic put on by Low-Ki, who in my mind is the hottest wrestler in the world today, defeat Minoru Fujita and Xavier in a triple threat match for the lightweight title...it was Xavier who fell victim to Ki Krusher 99....or as that idiot commentator "Mean" Mark Clemson would call it "a modified inverted fisherman suplex driver"...that stupid turd burglar...The Bald Guy should do the whole event by himself....now there is true talent...Don Montoya defeated the returning Prince Nana with the help of the CSC and F.A.G...it was good to see NaNa back...he is another one of my personal favorites...and before very long, I think he will be wearing gold in JAP....The SAT's and Youth gone Wild were treated to a tag team title match by the Hit Squad...this was one of the most physical matches I have ever reffed...and Mafia of the hits looked absolutely dominant in this match....I now give him the nickname of "Mutant Mafia"..this guy doesn't feel pain...The Hit Squad proved they are untouchable as they destroyed and pinned the Youth Gone Wild, who looked off in this match,...the SATs basically just left during the middle of the match...I am not sure why...but I guess they do as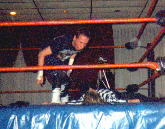 they please...but they still want the Hit Squad...and look for that match soon. Dixie nailed the insane dragon at the end of this match in an apparent miscommunication...Dixie thought Dragon was "Stepping up to him"...if you ask me...Dixie is just a little punk that needs an ass-kicking, and just might get one from his little brother. They did walk out together, but I am not sure everything will just blow off. Homicide received his rematch with LowKi...another back and forth, give and take match...but it was Homicide that scored his finisher, toyota bomb, first...he won on that exchange...1...2...YOINK! I was pulled out of the ring by a 6 foot punk with a chip on his shoulder...XAVIER! He cost Homicide the match by ripping Homicide off and punishing Low Ki...Homicide had the match won, it was over...well, a 3 way dance might solve this one...and Xavier just made a big mistake...and in one match, became the most hated man in JAP. JAP returns to Bayonne August 24th, and to Philly on the 15th. I for one like this New Breed, and cant wait for more! Congrats to Fat Frank who proposed to his woman on this might with the JAP wrestlers surrounding the ring...that fat ass almost came to tears!
TERRY GORDY
Unfortunately, last week, Terry Gordy, one of the true legends and original freebirds passed away last week at the age of 40. He was best known for his work as one of the Freebirds. He wrestled in the WWF, World Class, ECW, WCW...he will truly be missed....As Lynyrd Skynyrd would say...you are "Free as a bird" now.........

UCW
It was the last night at the Queens Elks Lodge...and what a way for it to go out. I was glad to ref in the building of ECW's first TNN taping, the building where Tajiri jumped into world title country by laying out Taz and joining Steve Corino, and the building of possibly the greatest ladder match in history....I only reffed one match there as Judas young took on Damien Dragon. It was back and forth when I was distracted by Pitdawg...when Judas and I turned around, Damien was laid out....so Judas scored the pinfall and was vuctorious. Apparently Team Canada wants DD's ass!..Now onto the ladder match...OH MY GOD! Xavier defended his UCW world title against Low Ki...I have never seen 2 men beat the living heck out of each other like this in my life. Low Ki had the dragon sleeper on Xavier on top of the ladder...Xavier's fleeing arms happened to poke Referee Billy Kaputo in the eye and sent him to the canvas. Low Ki grabbed the belt, but when he fell to the canvas...the belt fell into Xavier's hands. Xavier was awarded the winner to a chorus of boos from the Queens crowd...but then I decided to use my ref advantage and run down to ringside to tell Mr. Kaputo just what happened. He ordered the match to continue...but he was still groggy from what happened, so I climbed the ladder and put the belt back up for the 2 men to go at it again. Xavier was as pissed as a 14 year old girl who just heard the last Backstreet Boys CD was sold out...so as I ascended to the top of the ladder and placed the belt back up...Xavier pushed me off the top of the ladder into Billy Kaputo in the corner...WHAM! 2 refs taken out in one fell swoop...Ith then took Jim Molleanoux to finish the match....After more Holy SHIT chants...Low Ki scored his finisher...(Ki KRusher 99) OFF THE TOP OF THE LADDER! HOLY SH1T HOLY SH1T the crowd yelled....as Low Ki then reached to the top and grabbed the belt and became the new UCW CHAMP! WOW! what a match...the UCW roster then came out and greeted Low Ki and put him atop their shoulders. UCW returns Aug. 26th at Sportsfest on Staten Island....when RED will challenge Low Ki for the belt WHOA!!!!
Next commentary....
WXW, CWF, what is happening with APW..and much, much more! YEAH!
Later, Gators...I'm vapor!
PAST COMMENTARIES:
May 20, 2001
April 21, 2001
March 1, 2001
February 7, 2001
January 17, 2001
December 21, 2000
November 19, 2000
October 29, 2000
October 17, 2000